September 12, 2018
Visit the 24th China International Furniture Expo
Our company focuses on the design and manufacture of display products. In order to broaden our horizons and design inspiration, we decided to visit the 24th China International Furniture Expo. At the exhibition, the passenger traffic is rich, and the furniture design of many companies is very novel and fashionable. We have gained a lot and are ready to participate in the Canton Fair next year.
September 22, 2018
Foreign Trade Team Studying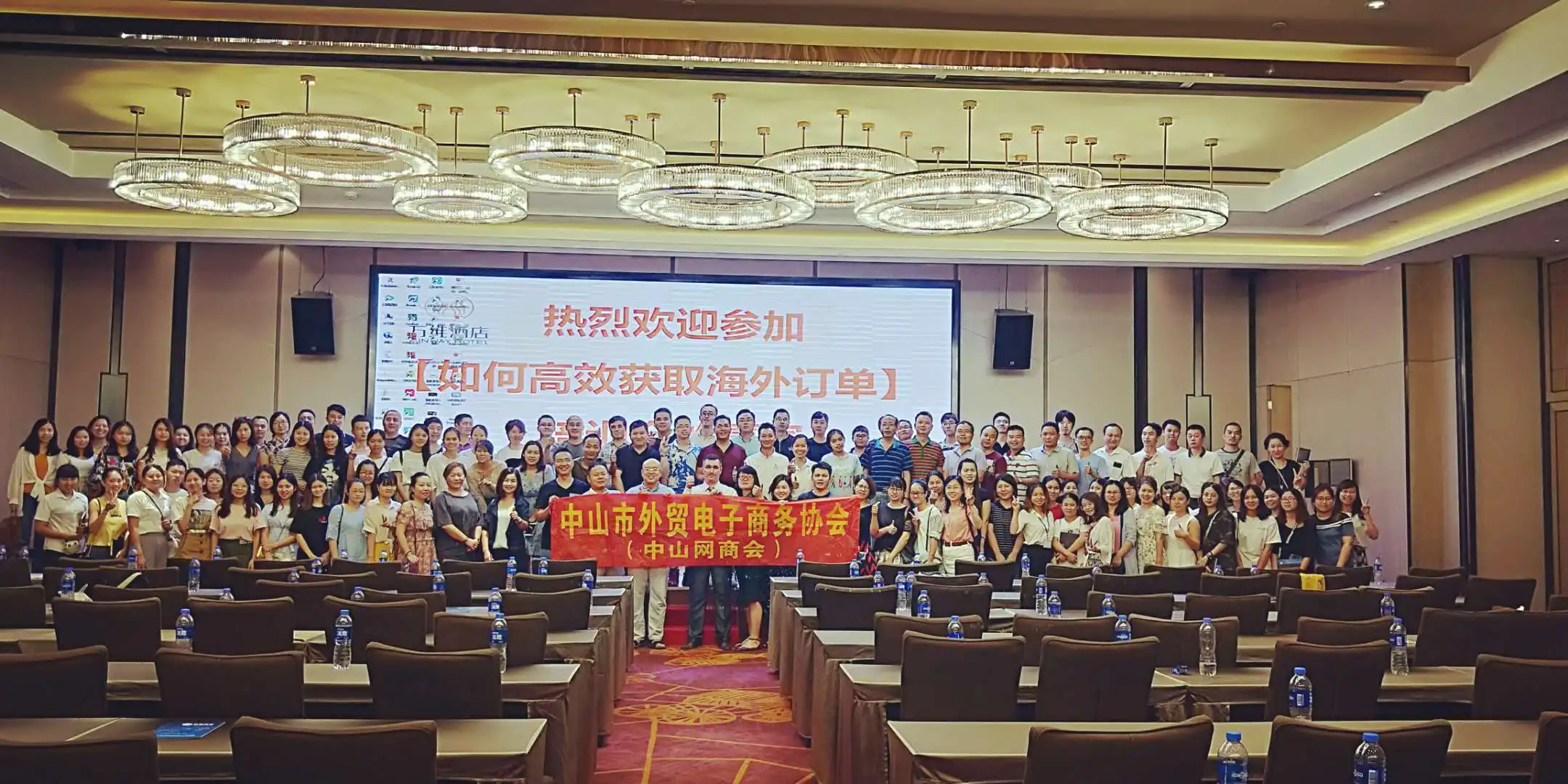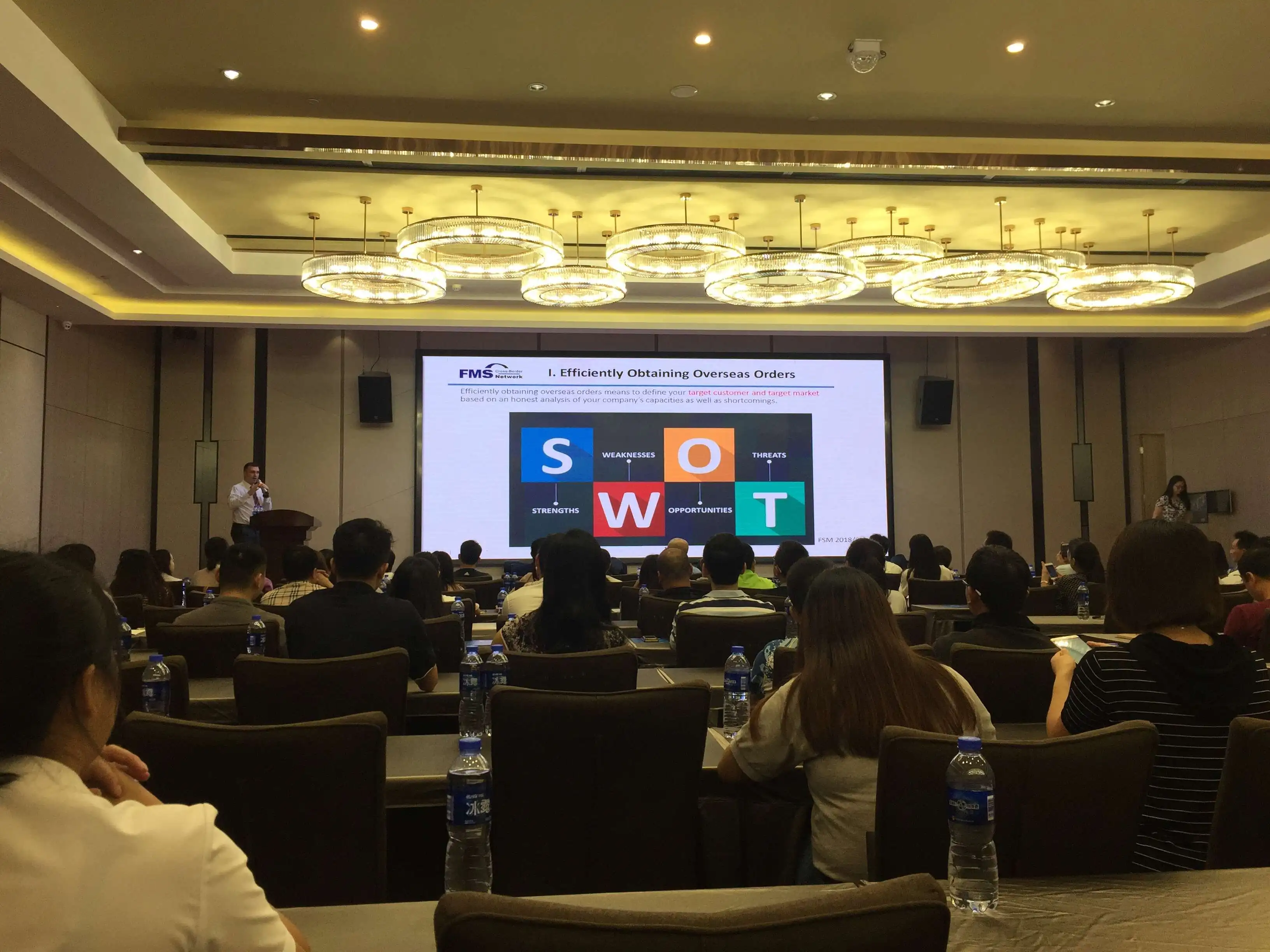 Our company has always attached importance to the training of employees. On 22 September, in order to improve business capabilities and provide better services to each customer, all salesmen participated in the large-scale training organized by Zhongshan Network Chamber of Commerce. Every salesman has learned a wealth of knowledge and will continue to learn to provide better service to customers.
September 29, 2018
Awards Ceremony
Today is the foreign trade training time in September. Mr. Han taught us a lot of communication skills. At the end, we have an awards ceremony.
Our September star is Vincy and Vivi, congratulations!!

October 13, 2018
Cycling Competition
On October 13th, in order to improve the staff's activity, increase team spirit and exercise, Yishang held a cycling competition in the professional competition area. The teams were management team, design team, business team and production team. The champion will have a reward of RMB 1,000.
Before the competition, the teams started a heated discussion and planned how to work together to win the competition. During the competition, the teams showed an amazing team spirit and everyone was very happy. As a result, the production team won the championship. After the competition, the production team invited colleagues to gather for dinner with a reward of RMB 1,000.
This cycling competition fully reflects the spirit of cooperation between the teams. Everyone feels very proud, because we are employees of Yishang!
October 17, 2018
Visiting of The 124th Session Of China Import And Export Fair
The 124th Session Of China Import And Export Fair began on October 15, 2018. Based on the following schedule, Yishang arranged relevant employees to visit and study activities.
Phase 1: October 15-19
Phase 2: October 23-27
Phase 3: October 31st - November 4th
We visited a lot of excellent peer booths and broadened our horizons, which inspired us to inspire many new products.
October 25, 2018
Product feedback from Canada customer
On July 28, 2018, we received inquiries from Canadian customers for custom metal logo signs and signboards.
After understanding the real needs of our customers, we first analyze the drawings of our customers and make the following recommendations to our customers:
1. Regarding the backplane, we have modified the installation direction to make it easier for customers to install the local signboard.
2. Metal logo letters, the customer requires the font height to be 10cm, the character is Times New Roman, whether it is font or height in the production process is a certain difficulty. In particular, the shape ratio of the font is different. We use laser welding and manual welding.
After the laser welding of the product is completed, we polish the font, polish and brush and gold plating.
On September 6, 2018, we received feedback from our customers about Alibaba Credit Guarantee Services. Please see the screenshot below.
November 1, 2018
Newest feedback from Russia
On 30 Oct, we receive the newest reviews from Russia customer. From customer's short comments, we can feel the affirmation from client and it can encourage us to continue to make high quality products for our customers. No matter what product it is, who customer it is, if we confirm order, we will make out qualified products for them!
November 13, 2018
Client visiting from Iraq
On Nov 13, our first customer from Iraq came to our company for business visits and business communication.
The customer is engaged in the large outdoor advertising industry, he visited us for the custom metal casing.
Customer was accompanied by our visit to our production workshops and showrooms. The customer was very satisfied with our technology.

November 29, 2018
Visit the 2018 Xiaolan Chrysanthemum Exhibition
Our company is located in Xiaolan Town, Zhongshan City, Guangdong Province. Xiaolan Town has the reputation of "Chrysanthemum City", and the chrysanthemum culture runs through the history of Xiaolan. Xiaolan people make potted chrysanthemums with exquisite skills. In the history, when the chrysanthemums are in full bloom, each family puts a variety of chrysanthemums together to compare and judge, and then "Chrysanthemum test", and later developed into a chrysanthemum exhibition. The exhibition period is from a few days to a dozen days. The activities mainly include the appreciation of chrysanthemum, competition of chrysanthemum, drawing of chrysanthemum, taste of chrysanthemum, chrysanthemum play and so on. The Xiaolan Chrysanthemum Exhibition uses flowers as the medium and the chrysanthemum to be friends. The craftsmanship is exquisite and the scale is grand, which constitutes a unique folk traditional comprehensive flower show.
November 23 – December 10 is the annual grand chrysanthemum exhibition in Xiaolan. On November 29th, our old customer from South Korea came to our company to inspect the custom metal enclosures. After the inspection, the business department invited the customer to visit the chrysanthemum exhibition. During the visit, the customer was attracted by the beautiful scenery and was very happy to play, and threatened to visit the chrysanthemum exhibition here next year!
December 10, 2018
Client visiting from United States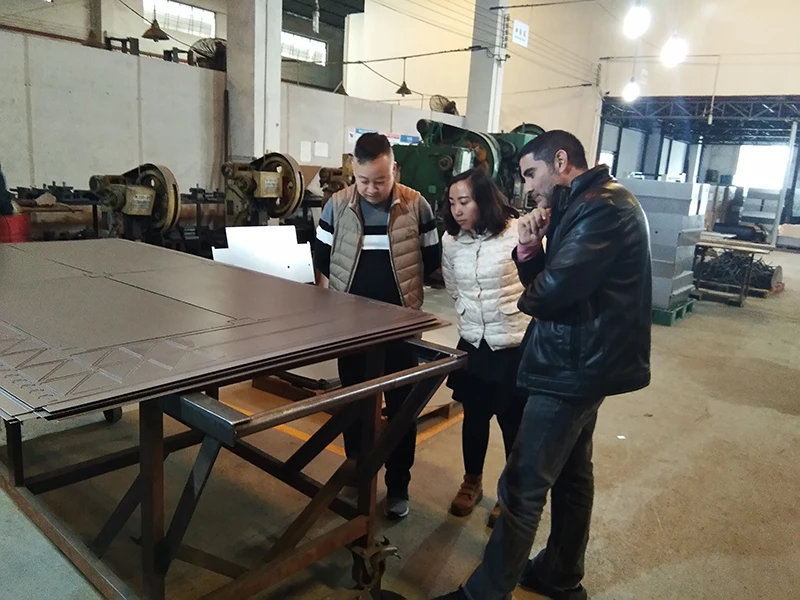 The busy December is coming, and today we are welcoming Abner Silvrio engineers from the United States.
The purpose of this visit to YISHANG is to establish a long-term relationship with professional stainless steel products manufacturers for his hotel equipment.
After a year of communication, Abner finally chose to work with YISHANG.
In the process of communication, I learned that Abner has tried many suppliers in the past years to make hotel stainless steel products for him. But they all have many quality problems in succession. Abner is very worried.
YISHANG's design team and salesman understand the customer's pain points and requirements. According to the drawing requirements, combined with 20 years of production experience, provide appropriate modification plans to customers within 2 hours.
According to the new program, we have customized a sample. The customer saw the sample on site and checked the product for the first time. He was satisfied with the dimensions, angle, flatness and surface treatment of the product.
After some inspections, Abner told us that he was happy to see a perfect and high quality sample. The quality of this sample is better than he expected. He saw from the samples that we are in perfect production process and quality control.
Abner confirmed the number of first orders and details of other products on site.
YISHANG has always provided the best quality for customers from all walks of life in all countries with the most patient sales service, the most suitable solution and the most strict quality control management model with more than 20 production experience and honest business philosophy. Service and stable supply.
I hope that in the future, you will become a member of the YISHANG family just like Abner.
December 15, 2018
Yishang December Hot Pot Dinner Party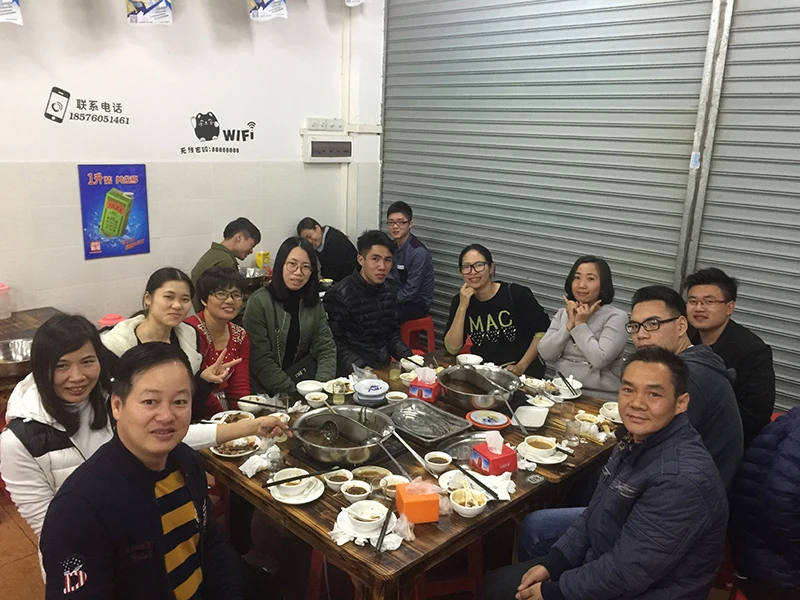 In Guangdong, winter is coming and people like to have hot pot. Today we have dinner party after work. In 10°C, we sit around the table to drive away the chill. After a busy day's work, the delicious hot pot makes us forget about the fatigue and enjoy a relaxing dinner.
December 17, 2018
Training of Facebook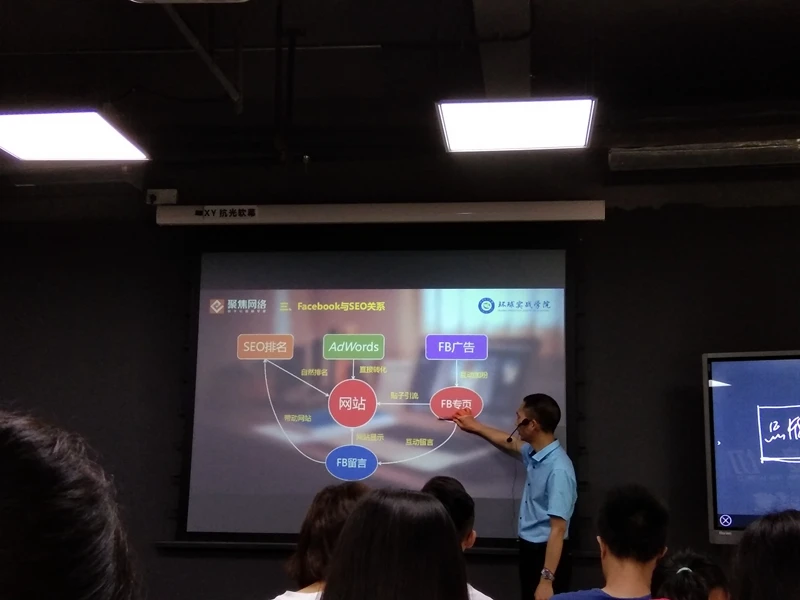 The founder of Facebook is Mark Zuckerberg, the world's leading photo-sharing site, with approximately 350 million photos uploaded every day as of November 2013. As of May 2012, Facebook has approximately 2.5 billion users. In February 2017, Brand Finance released the 2017 Global Top 500 Brands list, and Facebook ranked 9th.
Because more and more people around the world are using Facebook, Facebook has become a new sales promotion channel for companies all over the world. We have 22 years of experience in custom display stands, sheet metal fabrication and home decors. In order to broaden our sales channels, we have participated in Facebook training this month in order to make better use of Facebook.
We hope that through this training, we can help more customers who need our help on Facebook!
January 2, 2019
Business Department Summary Meeting
On Dec. 31, 2018, today is the year-end summary meeting of the business department in Yishang.
In the morning, we conducted the business year-end assessment, the noon is the salesman's personal summary of 2018 and plan of 2019. In the evening we also held an awards ceremony.
Congratulations to Marie for completing 100% of her 2018 goal and receiving a 2000 RMB award from the company.
Congratulations to Vivi and Vincy for being more than 10 sample orders and receiving a 500 RMB award from the company.
Thanks the company's support for the business department. Thanks our business consultant Mr. Han for his careful teaching.
Grateful 2018 and outlook 2019, Yishang will design and customize high quality products for new and old customers with the best quality sales services and the most perfect production quality control management mode.
January 14, 2019
Won the First Prize of the Foreign Trade Knowledge Competition
On January 14, 2019, the annual "Foreign Trade Knowledge Competition" organized by the Zhongshan Foreign Trade Association of Guangdong Province, kicked off. Our salesmen are actively involved.
We are an export company specializing in custom display stands, home decorations, sheet metal fabrication, adhering to the principle of quality first and cost saving for customers, aiming to open a new way of cooperation for friendship.
Because we have 22 years of foreign trade experience, we know the foreign trade industry and know how to communicate with customers. After the efforts of the salesmen, we won the first prize.
January 18, 2019
Won the First Prize of the Foreign Trade Knowledge Competition
Today, we received customer reviews from the United States. D customers are our old customers who have cooperated with us for more than five years. This time, we helped our customers produce difficult airport signs. In this production, we have several video conferences and conference calls with customers to modify and improve this product. In communication, D customers' new ideas and our rich production experience combine to produce the perfect product.
The aim of Yishang over the years is that allow customers to purchase products that match quality and service at a reasonable price. According to our experience, difficult products always require multiple modifications and improvements to be perfect. Welcome to contact us, we will help you with our professionalism!